The movers started late yesterday afternoon and had just finished getting all items moved into the house this morning.
Twenty-four hours of constant lifting, pulling, pushing and totting heavy wooden crates? Now that was a long workday.
With the last of the crates finally unloaded from the U-Hall, the largest of the two movers, Corey, hopped out of the truck and pulled the strap on the bottom of the trucks rolling cargo door. He yanked the door closed.
This had been an exhausting job.
After three full loads, from the container docks at the nearest railway, back to the house, then back to the dock again three times over, the work was finally done.
His client was completely moved in and all barely within the twenty-four hour window promised when they bid on the job.
But 'barely' counted.
Corey dusted his hands in satisfaction, his mind already planning what he was going to do with his money when he was paid.
Visions of new speakers for his car, and pretty girls, danced in his head.
"You go give the pretty Senorita the invoice, so we can get our money." Jose told him. He walked quickly down the sidewalk and jumped off the curb.
Jose slapped his best friend Corey on the shoulder as he passed, excited to be through as well. With a smile, he walked around to the driver's side of the truck and pulled the keys free from his the pocket of his gray mover's uniform. He flipped them around on his finger and nodded absentmindedly at the sky, but kept moving, "And I will start the truck. I want to get out of here before that storm hits."
"Storm? It's not supposed to rain today." Corey said, watching Jose pass him quickly, almost at a run towards the cab of the truck.
"Well tell that to the sky, Amigo." Jose called back and hopped into the truck. He slammed the door after him and its resounding echo reverberated loudly in the calm of the early morning neighborhood.
The truck grumbled to life.
Looking to the East, through the heavy thickness of the tree foliage, Corey couldn't help but notice the sky now.
The sun, recently raised, shone brightly in the heavens; the sky was a crisp clear blue. That is with the exception of a line of the sky just there on the edge. The sky resembled more a coming dusk, than a breaking dawn. An inky black line of clouds formed on the furthest most point on the horizon staining it.
Seemingly bleeding closer as he watched.
Creepy.
Oh, yeah…It was definitely time to go.
Corey reached for the invoice, wadded in his back pocket and quickly pulled it free. Corey waved it rapidly in the air to shake free most of its wrinkles as he walked up the steps of the sidewalk towards the huge house in front of him.
A powerful gust of wind blew cruelly just then and snatched the document from his hand, its power a mere hint of the raging storm which swept ever nearer.
"Damn." Corey muttered under his breath as he gave chase to the wind blow invoice with a stomping foot, trying to catch it.
Fortunately for him, the wind blew the invoice in the direction of the house and pinned it in place. Tacking it there. The wind had flattened the invoice against a column like pillar that framed both sides of the vaulted covered porch of the once old church, which was now a new home.
He had just reached out to grab it when the huge, heavy oak front door was pulled open and a woman stepped out. She carried a pink coffee cup in the palm of her hand.
Delicately she sipped at it.
Corey's eyes were drawn to her full rosy lips and once he reached them, languishing there for a moment, only then did his eyes spread outward to study the whole of what she represented.
Unsurpassed beauty.
She was his client. Corey had seen her, talked to her many times and each time he was in her presence, seemingly always resulted in the same reaction from him.
He was dumbstruck.
Absolutely.
She was just that perfectly beautiful. She was so perfect his fingers tingled with the need to touch her, but she was just enough exotically foreign in her perfection enough that he knew he dare not.
Long dark hair, sun-kissed with highlights of varying shades of red and honey which seemed to envelope her in a mix of waves and up-tilted curls. The color should have been an odd mix, but on her, some how it just worked with the overall picture that was she.
Her skin was more delicately sandy, than harshly tanned. It looked to be painted and polished by the most golden of honeys.
And her figure was a wonderful mix of athletically toned and classically lush. She had the shape of a woman a man's arms ached to hold.
Finally? Her almond-shaped eyes were aged like the finest whiskey a man could buy, so much more so than they were just a mere, average brown.
They were intoxicating.
She was intoxicating, from head to toe.
She looked to be more of an Egyptian princess fresh off the pages of a Persian fairytale, than a real life woman, but the way Corey responded to her mere presence left little doubt that she was indeed just that.
Real life.
She wore a baggy, loose-fitting men's sweater of steel-gray. A white tee-shirt peeked out from underneath the deep V of the collar. Khaki Egyptian cotton pants were tucked solidly into the soft leather of knee-high brown riding boots.
For all practical purposes, it was a look devised to lessen her attractiveness. A look that should have been anything but feminine, yet somehow she pulled it off in a way that had a man's imagination working, desperate to discover just what was underneath all the attempted, masking layers.
"Is that my invoice you're holding, Mr. Lager?" She asked.
"I'm sorry, what?" He shook his head like a dog shakes off water, when wet. Her voice husky and deep caressed his ears and gave him chills.
"In your hand," She nodded down patiently as if well used to this reaction she caused in men, knowing full well how to handle it too. All it too was a steady hand, "Is that, or is that not, my invoice for services rendered?"
"Yes, yes of course." Corey stuttered out quickly, holding the invoice extended in his hand. It shook. "Sorry, Mrs. Pope."
"Not a problem." She said kindly, patiently, pulling the paper from his hand.
Still sipping from the warm steaming coffee mug, Magdalena Pope held the invoice level to her face so she could read it, in the ray of porch's light overhead. Her attention however kept drifting almost distractedly up to the sky to her right, past the huge oak tree in her new yard. In consideration she watched as the storm clouds approached. Her gaze then turned over to her left, towards town, where a fog seemed to be sweeping the streets as a cold wind blew in.
Yet she didn't shiver, she didn't need to.
This cold wind?
She welcomed it.
Following the direction of her casual gaze, Corey remarked, "Wow, weird that it's August and we're getting weather like this, huh. Even for The Fare, its odd and that's saying something, cause The Fare? Yeah, it's always odd. It's almost like The Fare is living in an alternate world in its hole here. Even then, I must say, it has sure gotten chilly here and quick." Slapping his hands together to generate some warmth, he finished his observations and quickly shoved both his hands in his pockets in an effort to physically stem his trembling, but to no avail. "This front seemed to come out of nowhere."
"It sure seems that way, doesn't it?" Magdalena lowered her mug, lowered the invoice and rolled her jaw. Eyes narrowed, she seemed to be waiting for something as she stared intently towards the buildings of downtown.
After a few minutes, and after apparently not seeing what she obviously hoped to see, Corey watched as she frowned.
Deeply.
He followed her gaze.
There were just two little old men, sitting outside the feed store in the downtown district of Pinnacle Thoroughfare.
Heck, they were so far away, he could barely make them out. The only way he knew, without a doubt that they were there, was because they always were.  Always. "Mrs. Pope? Are you alright?"
"Yes, Mr. Lager. I apologize." She gave him the full wattage of her smile, after a frustrated shake of her head. Her smile was really quite stunning. And she knew it. "You two gentlemen have done such an amazing job, would you two care to perhaps stay. I could have you for breakfast?"
Stay?
God, Corey thought, he would love to stay, but not for breakfast.
Mrs. Pope just smiled down at him as if reading his mind, but something in her look unnerved him. Something he couldn't quite put his finger on, however any in-depth inspection of the look from her was brushed aside as a cool chill danced up his spine and sent his whole body quaking.
It felt almost like fear.
Her smile deepened.
"Uh," Corey cleared his throat, which had grown suspiciously shut at that look. Something about it made him feel the beautiful Mrs. Pope wasn't exactly being friendly. "No really, we have to get going. But thanks."
Smart boy, Mrs. Pope thought, smarter than you look;  however she said aloud, "That's fine. Let me run inside and get your payment. Is it alright if I pay with cash?"
Pfft, duh was his instinctive mental reply, however Corey's verbal answer was instantaneous and totally customer oriented. After all, it was the business he was in, "Absolutely, Ma'am. Cash is fine."
With dollar signs and visions of cold hard cash in his head, all thoughts of uncomfortable looks danced merrily away.
A boy had to have his priorities after all.
"Wonderful." Tucking the invoice under her arm, holding the coffee mug, she turned, reaching for the door. She looked back at Corey, over her shoulder, from the shadow of the archway of the door. Her eyes seemed to glow, "Would you care to follow me in and I will gladly give you what you deserve?"
The horn of the U-Hall blasted loudly behind him and Corey jumped, instantly startled, he spun away from Mrs. Pope, breaking her entrancing gaze. He glared back towards the U-Haul as Jose, raise his hands in the universal sign of, "What the heck are you doing, man? Come on!" in a wave through the passenger window of the truck.
Corey heard the front door of the house behind him close slowly and knew any chance he had of being alone with Mrs. Pope had vanished like a puff of smoke.
The young, hormone driven man in him wanted to felt upset at that deflating realization; however, strangely enough, a feeling of unabashed relief was the only feeling that he could find in him to summons.
Corey snorted off his relief and waved Jose off. His friend was far too impatient.
The front door opened once more behind him and every muscle in his body locked as Corey turned to face her.
Magdalena Pope, stepped out on the porch, minus her coffee mug and walked with a wad of cash that had his mouth dropping open in appreciation.
Intellectually, Corey knew how much money they had coming to them for the job, but fact of the matter was he had never actually seen that much cash at one time before in his life, but in the movies.
It was banded and stacked with nice clean, crisp $100 bills.
A bunch of them.
Next to the amazing Magdalena Pope, that stack of cash was the sexiest thing he had ever seen in his life.
Magdalena extended both the wad money and a hand of thanks towards him.
He took the money first, "Thank you Mrs. Pope for your business." And boy did he mean that, just as he took the offer empty hand in his other, shaking it enthusiastically.
Almost instantly he was racked with another bout of chills, this time they almost shook him to his knees.
The wind blew in a soft menacing whistle, tickling the hair at the base of his neck. Mrs. Pope's hand felt so cold.
Dead cold.
Her beautiful smile warmed him little this time and almost desperately he tried to pry away his hand as she so calmly said, "You are very welcome, Mr. Lager."
He pumped her hand quickly like a car jack, in erratic fits and starts, while he shoved the money in his pocket with the other.
Magdalena couldn't help but smile at his nervousness, despite the fact that she was awash in disappointment that he refused to allow her to have him and his partner for breakfast. "If you don't mind me asking, for curiosities sake you understand, that is a lot of money for two young men to be given at one time. What do you plan on spending it on?"
"Girls." Corey said instantly, finally managing to jerk his hand free. He stumbled back a good foot, all but tumbling down the stairs, but he dare not show her his back, though why he had no idea. Walking backwards down the sidewalk, he waved nervously at her through nervous panted-dry lips. "What else is there?"
Sheer will had him forcing a smile to his dried lips. Lips that almost instantly cracked and bleed.
Magdalena stopped smiling. She took a step forward off the porch.
And with that, like a gunshot, Corey turned and took off.
"What else indeed?" Magdalena chuckled in disappointment, watching as the large young man turned and bolted, running for the truck like a man having just been spared the hangman's noose. "My, what a smart young man you are?"
She was reasonably satisfied with what she received, but had high hopes for a bit more. Ah, well. Can't have it all, she supposed.
At least not always.
Yet.
Walking to the edge of her newly refurbished covered porch, of what was once the old abandoned church on Main Street, Magdalena watched the U-Hall pull away.
Thinking of how most normal boys tirelessly spent their days, ever in the pursuit of all things girls and girls related in order to get girls, Magdalena's mind drifted to one boy in particular who was unlike any boy she knew.
Special.
She stared unblinkingly at the buildings of downtown.
Leaning up against the damask colored porch rail, she stood stone cold in the shadows, watching from a distance as Catherine Fox picked up her bags and slung them on her shoulder as she emerged from the fog shrouded alleyway…
No.
Fog that seemed to be drifting her way from her, like ghostly waves flowing on the currents of the river Styx.
With arms crossed over her chest, a deep rage began to build within Mrs. Pope.
Grimly Magdalena watched as the form of the young girl adjust the bags over her shoulder, after a quick glance around her, only to head up the street at a fast determined pace. Off to school, it seemed…
Alive and well.
Damn.
What had gone wrong?
The girl was never meant to live.
The fog spirited up over the railroad tracks, heading towards her, then up into her yard, and she watched it unconcerned at its rapid approach, with a barely concealed snarl on her face.
She watched as it flowed easily over and around anything in its path, and it began its slow creep up the newly painted porch steps, until it blanketed the wood of the porch, ankle-deep in nothingness.
Nothing stopped it.
Well, apparently almost nothing, Magdalena thought with a sneer.
Something obviously had.
"Leonidas, why is she still alive?" Magdalena snapped, as he stepped up soundlessly behind her. The fog dissipated with a slight wave of his hand. "You were supposed to kill her."
"I could not." He said, looking through the English Ivy covered trellis that shaded the end of the porch, he watched Cat with gleaming eyes as her form shrunk with the growing distance she put between them. "We made a mistake."
"We most certainly did not." She spun towards him. Her dark hair swirled around her face, her dark brown eyes embered brightly, burning with a strange fire heated with her passion, highlighted with flicks of orange, yellow and blue. Yanking down the shrouding tiaras cloth that covered his neck and head in an expertly wrapped blue scarf, she glared at him. "You did, in not doing your job."
"You did not see her–Speak to her!" Leonidas pleaded. Turning away from her too knowing, seeing eyes he rubbed his side, where Catherine's blade had nicked him just underneath his heart with his right hand, just as his left hand slipped into his pocket to touch the red game chip that he retrieved when he had vanished into the fog, which had slipped from her grasp. "I did."
Catherine Fox could have easily killed him and he would have not have been to stop her, but she did not. That accounted for more than any mere words from him could reflect. Plus, she really took him holding her to knife better than just about any girl he knew. "I saw no darkness within her, and I looked deeply, with every inch of my gift. There was none. Any powers or abilities she may have are learned, not gifted. She is an innocent."
"Innocent is she?" So that was the way of it, was it? Magdalena thought, crossing her arms. "This morning when she materialized out from the darkness of the shadows, she didn't look it."
"That was a misunderstanding." He waved off her accusations in much the same manner Catherine had waved at him earlier. "You are grasping at straws because it is convenient for her to be the one that I now know she is not."
"What?" Magdalena asked, astonished at his cavalier attitude. "You mean evil?"
"Evil-evil." He amended.
"What?" Magdalena snapped viciously at Leonidas, astonished at his cavalier attitude, which was so unlike him.
He shrugged, "Nothing."
Magdalena stared at the young man before her a good second trying to reign in her temper, before turning back to look at the young woman who walked with confidence down the street now in hurried steps, wondering what in the hell had happened in that alleyway?
What sort of magic did she possess that she could have used so effectively on Leonidas to make him stay his mission?
Magdalena was a smart woman and although she wasn't certain, she could make a logical assumption. Knowingly, she narrowed her eyes, "She is a very beautiful girl."
He spun her back towards him with a hand on her arm. His jaw tightly clenched, the muscles working powerfully there.
She got it in one, Magdalena thought with a grimace.
"Not so beautiful it would cloud my vision. I know my purpose. I know my mission in life." Anger dripped from his every word. The sky rumbled dangerously overhead. The dark clouds twirled above them like a vat of whipped cream being beaten by an egg beater. The air seemed to crackle with energy and prickled her skin with the tidings of his danger.
"After this, how can you have any doubt?" Lightening ripped across the sky as he passed the back of his left hand down the angry red scar that ran the length of the left side of his face. He stared at her coldly, "I loved him too, you know?"
The wind picked up causing her long dark hair to lashed painfully across her face. It whipped at her eyes, causing them to sting.
Of course, that was it…It had to be it.
Magdalena yanked her hair free from her eyes and looked around her.
Dead leaves and dying grass was swept up in a violent vortex of mini-tornado like whirlwinds as the wind angrily churned in all directions around them. And just overhead, a dark funnel cloud began to descend from the heavens.
Wonderful.
"I know you did." Magdalena stared up at Leonidas unblinkingly even in the face of his wrath, "Now calm yourself, before you do something you will regret."
"I regret nothing!" Rumble "And I will not allow some pretty girl, as you so call her, to cloud my vision and what it is that I came here to do." He was nothing, if not adamant, "However I tell you, it is not she who we seek. She is not even a Spark, she didn't even know what that was…So how could she be Divine?"
The giant oak tree out by the road groaned under the force of the galling winds as they gained in momentum, moving faster now, the storm raging. Its limbs shook and leaves fell free of it like dying brown rain, seemingly trembling in fear.
The porch swing on their porch banged angrily against the side of the house in an unsteady rhythm.
A trashcan, left out on the curb at a neighbors house across the street, tipped over, its lid skidding down the road, swept up by the wind, which were growing more powerful now by the minute.
Magdalena watched the lid travel down the street with a resigned cock of her eyebrow.
Now he was just showing off.
Why now – Now! – Of all times, did he have to choose to become so moody?
And so very, very normal.
Boys!
"Alright." With shielded eyes, Magdalena looked up to the sky that had grown a thick dark gray, with churning clouds and a growing angry eye in their center. She was a woman after all and one with experience. Smitten boys she could handle. She just needed a firm hand. "We shall see."
The hairs on her arm, stood on end.
"No we shall not!" Leonidas shouted just as a bolt of lightning, in electric silver-blue split the clouds, crashing into one of the trembling limbs of the giant oak. It exploded, blossoming into fire. Thunder boomed, shaking the ground under her feet. "It is not she and you will let her alone!"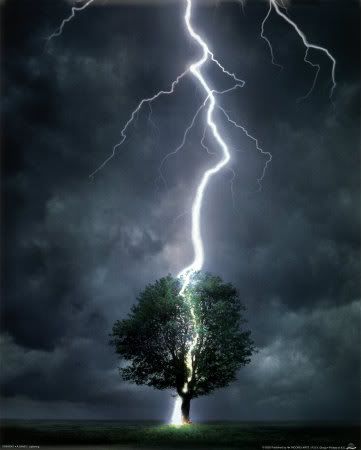 OK. Magdalena silently conceded, maybe a firm hand wasn't needed. Apparently he was way past that point already.
Boys and their hormones were ever a passionate, unpredictable trial, she mused. Magdalena knew there was no way she would be able to get through to him in his present state. Apparently the girl had worked him into quite the tizzy.
Time to back off… Way off, if but to do nothing else, than to throw him off her determined hunt. A hunt she was far from willing to relinquish just because he said so.
The scent of burnt wood filled the air, and the ground around them was littered now with little burning piles of oak tree rubble as its only remains.
Magdalena Pope was not a foolish woman. She had lived too long and had seen too much, she knew too much, just as she knew this was not a battle she wanted to get into with him.
Especially now, with so much at stake.
Raising placating hands, she approached Leonidas slowly, carefully, showing him she was being supplicant and indeed backing off…
For now.
She gave him a few moments to calm down, while running tender hands up and down his arms. She took a long moment before she spoke again. Once the wind around them began to steady, only then did she dare lay a tender hand on his shoulder, to garner his attention.
Once Magdalena had it, she watched his eyes and in them she saw the storm rage fiercely within as he tried to get himself under control.
Slowly, ever so slowly the atmosphere around them settled, yet still charged. The winds diminished. The clouds, vortextual and swirling settled back up in the sky, and the heavens lost their thunder.
That's a good boy.
"So you say she is no Spark, therefore no danger to us, correct?"
"I do not just say it, I know it."
Stubborn is what he was, Magdalena thought. Time to try some logic, "What about her mother, Helena Blavatsky, a Divine Spark of Russian nobility, that would make her so, would it not?"
"We do not know for certain that the Blavatsky is her mother." Leonidas argued. "We made a guess, a calculated guess for certain since there are so few Divine Sparks left, but a guess nonetheless. The Blavatsky claims that her daughter and husband were killed in a car accident when her daughter was just a baby, yet days old. It could be true, we just wrongly assumed otherwise."
"Convenient." Magdalene said, but she was thinking.
He threw up his hands in frustration. Magdalene could she lightning which flashed in the sky through the trees behind him as he shouted, "Why would she lie? The Blavatsky is a Spark. Any children she would have would be a Spark as well, consecrated with the power that comes with such a legacy and with such a legacy would come the danger. Why would The Blavatsky lie about that, attempt to keep that birthright from her offspring? What would be the purpose?"
"There are one or two I could think of." She said nodding her head out towards the old beat-up black jeep parked by the curb in the road.
Magdalene eye's drifted over the young man's face. He stared down at her and with her eyes Magdalene traced the path of the angry line that scarred his skin. Oh, she knew exactly why The Blavatsky would attempt such an act, even as she questioned her mother's resolve to do what was needed pull it off.
Could The Blavatsky have abandoned her own child – Could The Blavatsky have made such a sacrifice in order to save her child? Or was Leonidas right and they were simply looking in the wrong direction, by looking at Catherine Fox as a Spark, at all?
To be quite honest, at the moment, Magdalene wasn't sure which possibility she found more terrifying. The fact that they were wrong, or the fact that they weren't and Leonidas had let her escape.
At her quiet, discomforting gaze, Leonidas turned silently and walked away. He walked down the porch steps, needing some fresh air. The air on the porch was becoming far too stifling.
Constricting.
The only reason, Leonidas told himself, that he was acquiescing to her silent, nodded request for him to head to the jeep.
He needed air. Nothing more.
Magdalene sighed deeply as she turned to follow him, "The Nostradamus astrolabe pointed us here with specific, timed correlations that connected the merging of powerful Divine Spark Blavatsky line with Chata thanks to the emergences of histories past. A past set to repeat here in this present. Their paths intersected a millennium ago and are set to again, at this place, in a time coming quickly. The astrological charts prove it."
"Correction," He said turning back towards her, stopping in the middle of the sidewalk, thinking of the brass intersecting sphere-like globe that had astronomically predicted so much correctly, desperately hoping that this time, it was wrong. "The astrological charts prove that the Chata will intersect with a Spark of a noble birth, that is all. We assumed it was The Blavatsky, because just how many noble Sparks are there left? Nevertheless, that does not make Catherine she."
Magdalena shook her head. "We followed the trail of John Fox, who left The Blavatsky service immediately after the supposed 'deaths' of The Blavatsky's loved ones. That cannot be a mere coincidence. He fit the description of The Blavatsky spouse almost to a 'T', as did Catherine, her heir."
Since Leonidas was the one who had pointed that fact out to her at the time, it was only fair now, he supposed, that he disputed the point. "The claim was, as I recall, that John Fox had been a fairly new part of The Blavatsky shadow guard, The Nanren. A group known to have similar coloring and characteristics and as such he was responsible for the protection of her family. After the accident that killed the father and child; however, it was said that he felt he had failed in his duties. After he fled, it was assumed by the Blavatsky house as a whole that Fox simply gave up the distinguished honor of being amongst a Spark's personal guard and retired here to America, with his daughter in tow." Leonidas tilted his head and cocked his brow. "Giving the timing,and all involved, we just assumed the rest because it fit. We assumed that she was the one who we sought, maybe for no other reason than it was convenient for us to do so."
"If you are correct, we made an error and if she is not the one we seek," Magdalena asked, her voice full of frustration as her own doubts began to set in. He made some very convincing arguments to the contrary. "Then who is she?"
"She is Catherine Fox and not a Spark." Frowning in frustration, he ran a weary hand threw his hair. He looked back down the road where he knew Catherine went, but the distance had taken her away from his eyes.
He hated it.
Leonidas then looked out around him in the yard and saw the results of the eruption of the out-of-control storm.
And his temper.
He hated that even more.
Loss of control.
The small fires of destruction, it seemed, were everywhere, and they we so much a mirror to his own life, full of death and destruction.
"If it's not her, fine, in fact that's quite wonderful. That means the Chata has not taken form – So points for us. It puts us one step ahead, instead of our usual position of having to play catch-up. However it also means that the prophesied vessel, which the Chata will take over, is still here somewhere. Only now, this time, we don't know who. We know The Chata needs a strong host body. It goes through them so fast if the host is not strong, draining their energy, which is why it needs a Spark. We must find it and destroy it, before The Chata merges with it as the veil of The Betweenness thins, allowing supreme evil to slip through from the supernatural world, into our own."
"Evil-evil." Leonidas corrected again, this time with a chuckle of remembrance.
"Ok, why…" That was the second time today. Magdalena threw up her hands, "Why are you saying it twice?"
"I do not know," He replied with a secretive glint in his eye. "But is does make it seem worse when said that way, does it not?"
"No. It doesn't." Magdalena shook her head at the boy, wondering what in the world has gotten into him today? At his careless shrug, she continued hesitantly, speaking slowly so he would be sure to get the importance of her words. "This unexpected delay, if that is indeed what it is, means we have a gift. You do understand that, right? We have been given a gift in the form of a very small window of opportunity to stop the destruction we know will come with the Chata, if it takes a host, before it happens. So saying, we need to make the most of this blessed opportunity and be sure to use it to our advantage."
He nodded, but Magdalena watched him as he glanced back down the road, his face unsure. Walking to him, she reached out to him with a firm hand and grasped a fist full of fabric at his shoulder.
With a slight pull of the fabric of his navy blue cloak at the shoulder of his arm, she pulled Leonidas into her arms for a hug.
He went hesitantly, but still he went.
Closing her eyes, Magdalena took a moment and just held on.
Knowing that these precious moments, where few and far between, she hugged him tight and inhaled his scent. To her, he still had that puppy dog smell of a dirty little boy after a hard days play. It made her heart ache in memory not only for what he had been, now long gone, but for what he had become and for what, as of yet, he still stood to lose.
Eventually he relaxed, gave her the response she wanted and hugged her back.
Granting her that one small victory.
For now, it was enough.
Magdalena leaned back, smiled up at Leonidas and ran a loving hand down the left side of his face.
Her fingers traced the path of the scar, the way her eyes had caressed it earlier.
He had given so much, lost so much, how much more would be asked of him before his destiny was through, Magdalena wondered? But deep in her heart, she already knew the answer.
Was his life something she was willing to sacrifice? More to the point, was sacrificing his life something she could afford not to do at this stage of the war?
Thinking of sacrifices, Sparks of noble blood and The Blavatsky, Magdalena's mind began to race with the possibilities.
The smell of charred wood drifted up to her, carried by smoldering billows of smoke that seemed to come from piles of burning wood all around them.
The boy had made quite the mess, she thought as she looked up at him – What a deadly wonder he had become?
And all hers.
Seemingly unable to help herself, Magdalena leaned up and kissed Leonidas on the tip of his nose.
He rolled his eyes, pulled out of her arms and offered her one of his with a cock of his head and a crook of his elbow. Ever the gallant, was he, "My lady, shall we?"
Apparently their earlier quarrel, resulting in the destruction of the tree, was forgiven.
He had such a huge generous heart…
It was truly the only fault she could ever find with him.
Nevertheless, she took his offered arm with a bow of her head and together they walked the rest of the way towards the jeep.
Slowly Magdalena watched the smile on his lips die a slow death as it fell from his lips. He stared at the shadows on the distant horizon. "That is not me."
"I know." Just underneath the layer of dark clouds already there, now a darker line lay just at its edges. "That is something else entirely."
Time was running out.
From every direction you looked around the town, from the depths of the hole in which it was planted, the darkness seemed to encircle them.
Drawing closer.
Closing in on them in like a lid to a pot.
The Chata cometh, it seemed, Magdalena thought, to taketh all away.
A mental ticking began in her head, sounding as a clock would as it ticked down to the detonation time of an exploding bomb in old movies.
Time was of the essence. They had to figure out who the possible Divine Spark vessel would be and destroy them, before the Chata garnered enough strength to break through the veil that separated their worlds when it was at its thinnest.
The Chata would still come, it was predestined, however whether or not it stayed depended on whether it had a host strong enough to house it.
That they could stop –That, they had to stop.
While walking, she contemplated their present quandary out loud, again running through what they did know and most importantly what they didn't.
"If the Spark is not in Catherine Fox, as we originally surmised, then the principle question still remains…Where is it?" Pulling her keys free of her pockets, she walked over to the passenger side of the jeep, digging the jeep keys out of her pocket, she pulled them free, unlocking the jeep's door. She pulled open the door for him and she stared hard into his eyes, "Or more to the point, who? Who here attracts the Chata for its upcoming earthly birth?"
"I do not know."
Magdalena looked leisurely over her shoulder, down to the still burning ruble in the yard, then up to the tree, now viciously vacant limbs, branches and leaves, still smoldering. My, what a horrible temper he had and while she looked at results of his anger, Magdalena couldn't help but to think that the boy needed to be schooled a bit on the hazards of his temper…
Hmmm, schooled?
The smile that formed on Magdalena's face just then, was slow, methodical and just a tiny bit sadistic.
A plan formed.
It would serve him right.
Leonidas gave a resigned sigh, automatically reaching out to manually roll down the window of the jeep as he stood waiting. The air didn't work and even as chilled as it was inside, it was stifling when one was trapped in the interior of the jeep. He needed air, "I take it from the smile on your face that you have a plan on discovering just who it might be, before it is too late?"
"Of course I do, dear boy, it's a simple two-step plan." She winked at him. It was all a bit too easy. Why had she not thought of it before? "First step, is to get you enrolled into high school."
Leonidas's mouth dropped open. That was the last thing he had expected. "High school – Me?" He rolled his eyes. "You are kidding, of course?"
Magdalena Pope wiggled her eyebrows at him.
Apparently not.
"Wonderful." He grumbled. Out of all the horrors he had imagined as they traveled here from long, distant lands, across storm-tossed seas, this was not one of them. "High School? Fantastic."
Magdalena did her best to bite back her smile as a result of the look on his face, but failed miserably. He shot her a particularly dirty look from under his dark slashing, dramatic brows.
It was a look as miserable as any man could give after just having learned he had been sentenced to the gallows, or more to the point, like a boy sent to his room without dinner.
"It will be fun for you." Magdalena told him cheerily as she all but gently shoved him into the jeep door. He fell into the passenger seat with a silent, very manly, brooding stare. "Once there, you can find out just who is the Divine Spark vessel we seek. And step two?" Slamming the door, she looked at him through the open window, smiling, "You will kill them." Reaching through the window, she clucked him on his chin with her fingers. "And that my dear, will make all of the horrors you are about to face in American high school worth it, won't it?"
"Yes, of course it will, Mother." He gave her a nodding bow, as she turned from the window with an excited clap, heading around to the driver's side door, having all the details now straightened out in her head, she was back to being her normal, chipper self.
All thoughts of his defiance in not killing Catherine apparently were quickly forgotten.
So quickly in fact, it was rather disturbing. His mother never let anything go that fast.
Ever.
Leonidas felt his suspicions rise like hackles on the back of a rabid dog.
Now, apparently, not only did he have to watch out for the vessel, as well as whatever The Chata would send after him once it realized just who had come to The Fare, but his mother as well. He knew he had to watch his mother else she would harm the innocent, Catherine Fox.
Nevertheless, as bad as he thought her insane plan was, it did have some high points.
It would give him ample opportunity to watch the young woman in question. Keep an eye on her; as it were, and maybe even get to know her a little…
All for the cause, of course.
Leonidas had to laugh at himself, at his own personal little lie. Once again slipped his left hand in his pocket and fingered the red game chip Catherine had dropped in the alleyway, where he had recovered it. He reveled in the thought of being able to be close to her again, so much so that his palms sweated with anticipation.
But no need for Mother to find out.
Oh yes, he was going to go along with this little insane plan of his Mother's. He merely gave out a loud sigh of acquiescence as she slid into the jeep, in the driver's seat beside him, in order to let her think he was going along with her plan…
Begrudgingly.
All the while internally, Leonidas silently, dearly hoped that for Catherine sake, she was as innocent as he knew her to be.
He rubbed the nicked spot underneath his rib, he found a hole in his shirt that she had made there. Leonidas pulled his hand back and looked at the slight staining of blood on his fingertips.
He smiled.
She had drawn first blood – What a wonder she was?
And because she was, Leonidas would hate it, after all, if he was indeed forced to kill her. That is, if his conclusions were discovered to be an error of mistaken judgment on his part.
She was such an intriguing bit of a girl, with beautiful long, dark silky hair, sparkling green eyes and skin so soft and smooth it just begged to be touched.
He all but itched to do so.
Oh, yes, if he had to kill her, he would most definitely hate it. He ran a hand again over the scar that ran the distance of his face, Leonidas Pope told himself resolutely, he most definitely still would.
"Darling?" His mother asked from the seat beside him, nodding towards the still smoldering pieces of oak, which burned in numerous little deadly piles on their front lawn. "Take care of that for me, before we go, won't you? I would hate to burn the town down, before it was absolutely necessary of course."
"Yes, Ma'am." Leonidas began to roll up his window, with a slight turn of his head, he glanced out as the glass pane that rose to shelter him from the elements, with glowing silver eyes, air be damned.
Eyes, his mother so often told him that were so much like his late grandmother, Agla.
Once the window was secured and with nothing more than a slight blink of his eyes, the heavens opened up. Hard rains began to fall and the smoldering flames were snuffed out, just as the Dark Spark within him decreed of the elements…
And they obeyed.
One form of the storm, it seemed, had arrived to The Fare and it did so in the form of one very worldly, deadly Leonidas Augustine Pope.
A Dark Spark, of the darkest order and as any true Spark would know, an eternal, mortal enemy of a true Sparks Divine.
Yet a darker storm still brewed in the distance.
Coming ever closer