If you have ever seen the Terminator movies?
Oh, yes…
You were fully prepared for this:
Lethal, fully autonomous robots are coming!
[via National Journal]Soon, Drones May Be Able to Make Lethal Decisions on Their Own ~By Joshua Foust

Scientists, engineers and policymakers are all figuring out ways drones can be used better and more smartly, more precise and less damaging to civilians, with longer range and better staying power. One method under development is by increasing autonomy on the drone itself.

Eventually, drones may have the technical ability to make even lethal decisions autonomously: to respond to a programmed set of inputs, select a target and fire their weapons without a human reviewing or checking the result. Yet the idea of the U.S. military deploying a lethal autonomous robot, or LAR, is sparking controversy. Though autonomy might address some of the current downsides of how drones are used, they introduce new downsides policymakers are only just learning to grapple with.

The basic conceit behind a LAR is that it can outperform and outthink a human operator. "If a drone's system is sophisticated enough, it could be less emotional, more selective and able to provide force in a way that achieves a tactical objective with the least harm," said Purdue University Professor Samuel Liles. "A lethal autonomous robot can aim better, target better, select better, and in general be a better asset with the linked ISR [intelligence, surveillance, and reconnaissance] packages it can run."

Though the pace for drone strikes has slowed down — only 21 have struck Pakistan in 2013, versus 122 in 2010 according to the New America Foundation — unmanned vehicles remain a staple of the American counterinsurgency toolkit. But drones have built-in vulnerabilities that military planners still have not yet grappled with. Last year, for example, an aerospace engineer told the House Homeland Security Committee that with some inexpensive equipment he could hack into a drone and hijack it to perform some rogue purpose.

Drones have been hackable for years. In 2009, defense officials told reporters that Iranian-backed militias used $26 of off-the-shelf software to intercept the video feeds of drones flying over Iraq. And in 2011, it was reported that a virus had infected some drone control systems at Creech Air Force Base in Nevada, leading to security concerns about the security of unmanned aircraft.

It may be that the only way to make a drone truly secure is to allow it to make its own decisions without a human controller: if it receives no outside commands, then it cannot be hacked (at least as easily). And that's where LARs, might be the most attractive.

Though they do not yet exist, and are not possible with current technology, LARs are the subject of fierce debate in academia, the military and policy circles. Still, many treat their development as inevitability. But how practical would LARs be on the battlefield?

Heather Roff, a visiting professor at the University of Denver, said many conflicts, such as the civil war in Syria, are too complex for LARs. "It's one thing to use them in a conventional conflict," where large militaries fight away from cities, "but we tend to fight asymmetric battles. And interventions are only military campaigns — the civilian effects matter."

Roff says that because LARs are not sophisticated enough to meaningfully distinguish between civilians and militants in a complex, urban environment, they probably would not be effective at achieving a constructive military end– if only because of how a civilian population would likely react to self-governing machines firing weapons at their city. "The idea that you could solve that crisis with a robotic weapon is naïve and dangerous," she said.

…[Read More]
And strangely enough?
All I can do…
Is laugh at the very thought?
Of how badly this is going to be…
For EVERYBODY.
[via io9]Why do we smile and laugh when we're terrified? ~Esther Inglis-Arkell

Why do we smile and even giggle when we're afraid? Are we trying to work things out? Or are we trying to convince everyone, even our attacker, that nothing's wrong? Here's what science has to say about "fear grinning."

One of the more ghastly human responses is the "fear grin." I automatically sink into it when things get socially awkward. Whenever people start sniping at their spouses or arguing who has to pay what on a restaurant bill, I lapse into a blank-eyed smile that implies that I'm just there to do a little dusting, and the dispute has nothing to do with me. But plenty of people smile to cover an awkward situation. They shouldn't smile when they're being mugged. Dial up the extremity of a situation, and fear should eliminate the smile, but some people, even when terrified, smile away. Why they do this is in dispute, but there are two general theories.

Acknowledging the Fear

A dog baring its teeth is showing aggression. It's displaying its weapons. Monkeys, when they show off their teeth, aren't necessarily doing the same. Primatologist Signe Preuschoft studied rhesus macaques, and noticed a great deal of teeth-baring in their social interactions. It did not signal the beginning of a fight. Most often, it happened during moments of tension between more dominant and less dominant members of a group. The less dominant monkey was the one that smiled, and often, after the smile, the aggressor became more friendly. The macaques weren't showing off weapons. They were making a sort of display of submission to the more dominant member. When danger threatened, they smiled. This behavior has come to be called fear grinning.

…[Read More]
So…
How did you like that part that said:
Did it make you laugh?
Cause I don't know about you…
But me?
It makes me laugh until my side aches.
*shakes head sadly*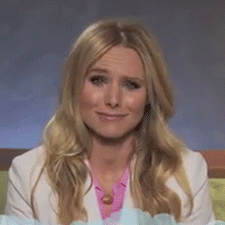 [Source]