I've had one post on the guys over at OKCupid and I must say, thus far? Their geekiness intelligence impresses greatly. Especially since they look at, and study, the statistical information (SCIENCE!) regarding relationships through their site and they honestly come to some pretty interesting conclusions…
Such as THIS: A mere 3 questions, and their answers, will accurately (statistically) let you know if you and your date are a good match.
But honestly, I would have never guessed these three questions out of all the questions in the world…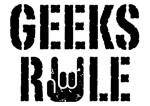 Only geeks could have come to this conclusion.
Gawd love 'em!
[via Lifehacker] Dating site OKCupid's blog, OKTrends, is a constant source of fascinating conclusions drawn from user statistics. In their latest post, they've figured out the three questions best determine your compatibility with another person—and they're not what you might expect.

The three questions are:

Do you like horror movies?
Have you ever traveled around another country alone?
Wouldn't it be fun to chuck it all and go live on a sailboat?

They've been able to determine that many of the successful relationships between members on OKCupid are between people who agree on most or all of the answers to these questions. [Read More]